Oktoberfest is the time of the year when you can walk around unauthorized all day in your schlager suit. With a beer mug in one hand and a bratwurst in the other. Nobody is surprised. On the contrary, everyone runs the polonaise and sings along with the best Oktoberfest artists. Organize your own Oktoberfest together with Evenses.
Oktoberfest
Before we move on to the Oktoberfest as we know it today, let's first look at its origins. How did this tradition originate and how has it developed over the years.
You might not think so, but today's Oktoberfest originally started as a horse race. In 1810 Crown Prince Louis of Bavaria married Princess Theresa of Saxe-Hildburghausen. This party lasted a total of 5 days and in honor of the wedding a horse race took place on the Theresienwiese. Everyone in Bavaria and the surrounding area agreed; this should be an annual festival. In 1819, the city of Munich decided to take the event into its own hands and ensure that it could continue to be celebrated annually.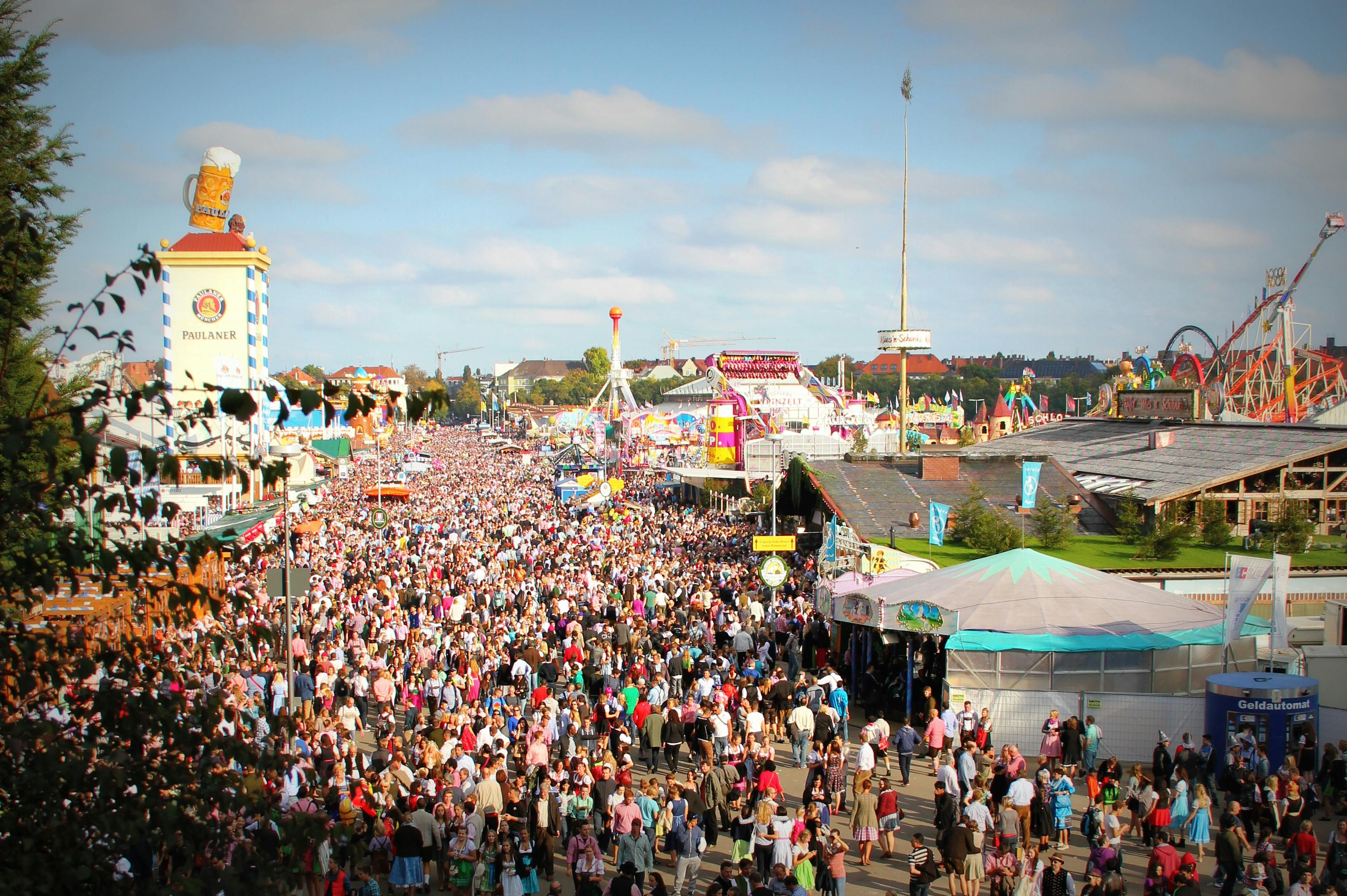 The Oktoberfest as we know it today always starts on the first Saturday after September 15th at 12:00 and ends on the first Sunday of October. The party lasts approximately 16 days.
Why is it called Oktoberfest when it starts in September? That answer is simple, it has a commercial point of view. The weather conditions are better and the September nights are warmer. This gives visitors more time to enjoy the beer gardens outside the tents for longer. Visitors can also take a walk on the Wiesn, the festival site, in the evening.
Oktoberfest is organized all over Germany, but Oktoberfest Munich is the largest folk festival in the world. At exactly 12:00 the first barrel of beer is connected and the mayor of Munich taps the first beer. With the words "O'zapft is", which means "it is tapped", the Oktoberfest is officially opened.
There are more than 14 large tents on the Wiesn. Each tent has its own charm and atmosphere. Each tent also has its own name, its own identity. Marstall is the first tent that can be seen on the site upon entering. In the evening, the local band plays the Bavarian classics.
If you really want to party and dance, the Schottenhamel is the place to go. This tent is popular among young people. The tent is reserved for the student associations, in other words a success for a fantastic party.
Are you more of a wine person, then the Weinzelt is the place to go. Here, fifteen different wines are reserved.
Over the years, the Oktoberfest has also spread to the UK. One of the most famous and also largest Oktoberfest in the UK is in London. There are, however, dozens of Oktoberfest events all over the country from Edinburgh to Cardiff.
Oktoberfest entertainment
Now that the origins of the celebration have become more clear, let's now look at the Oktoberfest as everyone knows it and specifically at the largest and most famous; Oktoberfest Munich. For example, the Oktoberfest 2019 had more than 6.3 million visitors and more than 7.5 million liters of beer were drunk.
The party itself consists of a fair. Naturally, the colossal, beautifully decorated tents should not be missed. You can get beer around the tents. The special thing about this beer is that it is traditionally served in a Maß. A Maß is a beer mug with a capacity of one liter. The beer that is served is not just any beer. It is laid down by law that only a few brewers from Munich may tap the beer.
Oktoberfest music
Of course, a nice big party also includes music. When you visit a beer tent on the Wiesn, there is a live band in the middle of the audience on a raised stage. Entirely in theme, the men in lederhosen and the women in a dirndl, the bands perform not only German but also international music. What song really comes back several times every day is Ein Prosit.
The music that can be heard during the Oktoberfest is also called oompah music. This kind of music is played by oompah bands with brass instruments and accordions.
Oktoberfest performers
The stages at the Oktoberfest are therefore often used by artists who, in addition to an international repertoire, also perform German music. Every year, Wiesn hit of the year is chosen. Among others Helene Fischer with Atemlos durch that night and Josh. with Cordula Grun have already been named Wiesn hit of the year.
Are you still looking for an artist who will provide your Oktoberfest with the best hits and sing-alongs. At Evenses we have a wide range of great artists as well as can arrange a Oktoberfest theme party.
If you are still looking for a band, there are also many possibilities.
Organize Oktoberfest
Do you feel even more in the mood for an Oktoberfest after reading the text? But it is still so far away or you do not want to travel all the way to Munich. Then you can of course choose to organize an Okroberfest yourself. We at Evenses are happy to help you with that.
The theme is known, now a suitable location. The location of course depends entirely on the size of the party. Do you want to keep it nice and cozy or do you want to go big? Are you looking for a location or are you renting a (large) tent, everything is possible.
The decoration is perhaps even more important. To give it a real Oktoberfest twist, the beer benches and beer mugs should not be missed. Not only the decoration of the location is important. The best part is that everyone also comes in Oktoberfest clothing. The men wear traditional lederhosen and the women wear a dirndl.
If the location is round and the decoration in the house, then the music should of course not be missing. A DJ is an easy way to fill the evening.
The many activities surrounding a real Oktoberfest prove that Oktoberfest is not just about drinking beer. The activities are not only fun for the children, but also fun for the adults.
Now that all has been arranged, there is only one thing left to do; Beer, lots of beer and stocking up on the beer mugs. But let's not forget the wine and the non-alcoholic drinks.
Would you like to be helped with organizing a real Oktoberfest and would you like to find out which artists suit the event well and suit your budget? Then feel free to contact us. We are available seven days a week for all your questions.
FAQ
How long does the Oktoberfest last?
October festivals are certainly organized in the UK. All over the country and mostly in October there are celebrations/festivals which lasts a day/few days and up to a week.
Why is it called Oktoberfest when it is in September?
Oktoberfest has moved to September over the years. The reasons for this are mainly the warm September evenings and better weather conditions.
What kind of beer is drunk during the Oktoberfest in Munich?
It is established by law that only the following beers may be served during the Oktoberfest in Munich:
Augustiner (Augustiner-Bräu)
Hacker-Pschorr (Paulaner Brauerei Gruppe, Brau Holding International)
Hofbräu Munich (Staatliches Hofbräuhaus)
Löwenbräu (Löwenbräu, AB InBev)
Paulaner (Paulaner Brauerei Gruppe, Brau Holding International)
Spaten (Spaten-Franziskaner-Bräu, AB InBev)
Are October festivals also organized in the UK?
October festivals are certainly organized in the UK. There are events in London as well as other parts of the UK. October festivals are also held outside Europe. The Oktoberfest in Blumenau in Brazil is the largest in the world after Oktoberfest Munich.
How many visitors come to the Oktoberfest?
Millions. Oktoberfest 2018 in Munich, for example, had more than 6.3 million visitors. This is spread over the entire period.
What does it cost to organize an Oktoberfest yourself?
The price of organizing an Oktoberfest has to do with a number of factors. It depends on what your wishes and preferences are. We can make it as crazy and big as you want. A good solo singer can already be booked at Evenses from £ 300, -
You can maintain the following target prices for bands:
£ 0 - £ 500 Hobby band
£ 500 - £ 1000 Small band
£ 1000 - £ 2000 Semi - professional band
£ 2000 - £ 3000 Professional band
£ 3000 - £ 5000 Premium band
£ 5000 and higher Well-known band
The exact price depends on several factors: quality, reputation, size, duration of the performance, the required sound technology and the travel costs. This jointly determines the total price of the requested band.
How long does the artist perform?
The maximum playing time differs per artist, but is usually 3 or 4 hours. The artist can also be hired for 1 hour, for example for a ceremony. Most performers play in sets of about 45 minutes per hour. In the breaks between sets, the artist arranges pause music so that there are no silences. This can always be filled in according to your own preference with proper consultation.
Do I have to arrange the technology myself?
Most artists bring their own sound technique to a performance, sometimes for a small extra charge. In consultation, additional technology such as lighting can also be brought along.
Does the band / artist need a stage?
Normally they don't need a podium. Often they can play in a free part of the room if it is not raised. Depending on the room layout and the number of people present, a stage can be an added value. This way the musicians are more visible to the audience.
What happens if the act is suddenly no longer possible?
In case of force majeure, it may happen that act is suddenly no longer able to provide the performance. This situation is extremely exceptional and hardly ever occurs. But if this happens, Evenses is prepared for this. We have a very large network of acts in our database and are therefore always able to find suitable replacements. We strive to make the replacement act as similar as possible to the original act. If the replacement option is cheaper, you will of course pay less. If the replacement option is a more expensive option, we will bear the additional costs.
Can Evenses also take care of the decoration?
In principle, everything can be arranged. From decoration to the beer mugs. Feel free to call or email for a meeting with one of our event specialists. Together we can then look at all your wishes and preferences.
Why should I book my Oktoberfest entertainment with Evenses and not elsewhere?
We have many years of experience in providing the entertainment. More than 7,000 customers preceded you and gave us a 9.3.
We therefore know how important it is to have your opportunity in safe hands.
Our Advantages:
✓ Clear all-in prices: no surprises afterwards
✓ In case of illness or force majeure, we always provide a worthy replacement
✓ All our acts are exclusively professionals and are selected on experience and appearance
✓ Much attention to your wishes and preferences
✓ Our team is available 24/7 to help you
✓ Thousands of performances and many positive references
Are there any costs that exceed the price of the quotation?
The final price of a performance depends on (a number of) these factors:
Number of hours
Travel time and travel costs
Required light, sound and DJ equipment (if applicable)
Required construction and preparation time
Redundancy fee
Many parties charge everything separately, sometimes even on actual costing. This can lead to unpleasant surprises. So make sure this is clearly agreed in advance. We always work with an all-inclusive price, so there are no surprises about the price.
Do I have to worry a lot in advance?
Relax and enjoy. Don't try to fix everything minute to minute in advance and stay pragmatic. Trust the experience of our entertainers and our experience and make sure that you prepare the booking in a pleasant way. Do not try to direct everything, but above all enjoy your party.