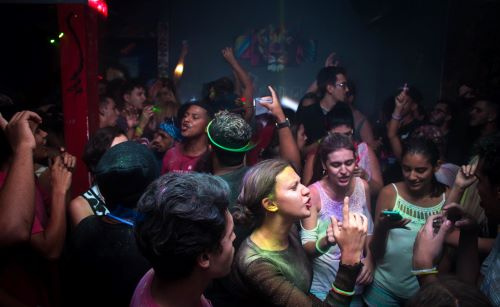 ---
Throwing a Memorable 90s Party: Relive the Magic of the Decade
The '90s was an era defined by iconic music, fashion, and a unique cultural vibe. What better way to celebrate the nostalgia of this vibrant decade than by hosting an unforgettable 90s party? At Evenses, we're here to guide you on a journey back in time, exploring why a 90s-themed party is the ultimate choice for your next event.
Why Choose a 90s Party?
Nostalgia Overload: Transport yourself and your guests back to the golden age of pop culture, where grunge, boy bands, and iconic movies ruled the scene.
Iconic Music: From the catchy tunes of Spice Girls to the rebellious sounds of Nirvana, the '90s offered a diverse array of musical genres that catered to every taste.
Fashion Flashback: Embrace the funky fashion trends of the '90s—think neon colors, scrunchies, denim overalls, and platform shoes!
Endless Entertainment: Games, trivia, and dance-offs inspired by '90s pop culture are sure to keep everyone engaged and entertained.
The 90s Playlist: DJs and Bands
At Evenses, we offer a roster of talented DJs and bands that specialize in delivering the electrifying sounds of the '90s. From spinning the top hits to live performances, our lineup includes:
Damage: Damage continues to captivate audiences with exhilarating live performances at corporate events, festivals, and public appearances across the United Kingdom and Europe.
5IVE: Established in 1997, they initially operated as a quintet, featuring Robinson, Neville, Love, Conlon, and Jason "J" Brown. 5ive garnered remarkable global acclaim, especially across the UK, extensive parts of Europe, and Asia. The group disbanded on September 27, 2001, after achieving record sales of 20 million units worldwide.
Atomic Kitten: Originating from Liverpool in 1998, Atomic Kitten is a British pop girl group with Liz McClarnon, Jenny Frost, and Natasha Hamilton as current members.
Plus many more DJs and bands for your perfect 90s party on our website!
Benefits of Hosting a 90s Party
Unmatched Atmosphere: The infectious energy of '90s music and themes sets a lively ambiance, creating an upbeat mood among guests.
Appeal to All Ages: Whether reliving the nostalgia or introducing younger generations to the era, a 90s-themed party appeals to guests of all ages.
Memorable Experience: The uniqueness of a themed party creates lasting memories and provides ample opportunities for interactive fun.
Social Media Buzz: With its retro appeal, a 90s party is inherently Instagram-worthy, encouraging guests to capture and share the nostalgia.
Planning Your 90s Party
Theme Décor: Set the stage with neon colors, inflatable furniture, and posters of '90s icons like the Fresh Prince or Kurt Cobain.
Costume Contest: Encourage guests to dress up in their best '90s attire and award prizes for the most authentic or creative outfits.
Interactive Activities: Host karaoke sessions featuring '90s hits or trivia games testing guests' knowledge of the decade's pop culture.
Food and Drinks: Serve classic '90s snacks like Bagel Bites, Dunkaroos, and Capri Sun alongside themed cocktails like the Cosmopolitan or a Blue Hawaiian.
---
A 90s party is not just an event; it's a time machine that transports everyone to an era filled with iconic music, memorable fashion, and an unmatched vibe. At Evenses, we're dedicated to curating experiences that captivate and entertain, ensuring your event is a blast from the past everyone will cherish.
Get ready to groove to the beats of the '90s and create a night of memories that will last a lifetime. Contact Evenses today to plan your ultimate 90s-themed party and let us bring the magic of the '90s to life!
---